Shared Photo & Video Library
The Grainger College of Engineering manages a library of digital media assets on a cloud-based, digital management platform called PhotoShelter. You will find this resource to be very useful as a searchable database of college-specific photos and videos, organized around a number of common themes and areas.
To gain access to our PhotoShelter database, and begin onboard training, simply click the button below and send us an email with "PhotoShelter Access" in the subject line.
Request Access to GCOE PhotoShelter
View the Grainger Engineering PhotoShelter tutorial.
The campus Public Affairs office also manages an image database that you'll find very useful. To request access to that database, visit:
https://publicaffairs.illinois.edu/services/image-database
Video Production Assets
Video incorporates a powerful layering of images, movement and sound. As a result, videos have an elevated ability to engage and captivate audiences – especially in our very visual culture, which is steeped in social media platforms that are video-driven.
But like with any medium, some videos are more effective than others. Remember to consider who you're trying to reach and what message and/or action you want the video to convey and/or prompt. Keeping the video as short as possible will help your audience stay engaged. If you find that it's difficult to keep the video short, consider simplifying your message, or even breaking it down into a series of short videos.
Video Guidelines:
Use of 4K video, time lapse, high speed, long exposure photography, gimbals and drone footage is encouraged.
Whenever possible, all audio should be recorded using a dedicated mic to optimize sound quality.
Adhere to design and typography guidelines for on-screen text
All videos should include a block I logo in the upper or lower third of the frame, throughout the video (the logo should be at least 30px tall and 30px from each corner; use the primary use orange logo unless your frame background is orange)
All videos (including unit-level videos) should end with the orange U of I wordmark bumper (the bumper does not require the block I in the lower third)
When needed or desired, a unit-level frame, a call-to-action, or a Power of I frame may be included before the university bumper
Unit Bumpers: Comes before campus bumper at the end of a video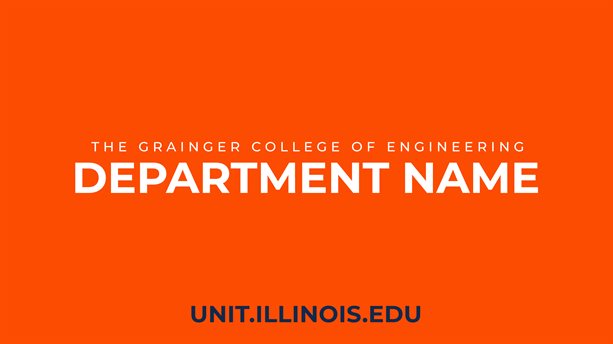 Power of I Bumper: Comes before campus bumper at the end of a video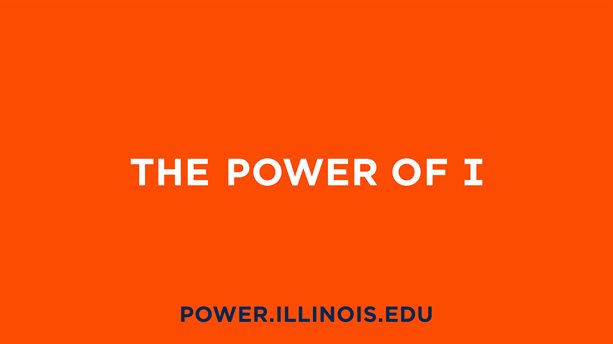 Campus Bumper: Goes at the end of every video (mandatory)