The Webtools Skin Designer now supports an 'Illinois Wizard' type for creating a campus branded application skin. These skins implement web design standards from the Office of Strategic Marketing and Branding. The application skin can be used by Webtools: Calendars, Blogs, Forms, Surveys, Directory, and Maps.
Setting Up Your Application Skin
Go to More > Skin Designer from the main landing page.
Select the yellow +Create button at the top right of your screen [Fig 1].
Select Illinois Wizard from the Application (Web) Skin options [Fig 2].
Choose an option for Skin Administrator. Then select the Create skin button.
In the General tab, rename your skin so it can be easily identified. For example, "GCOE - Bioengineering - Application Skin".
In the Skin tab, complete the following three sections:

Header - For the primary label, fill in your department/unit name. For the secondary label, fill in "The Grainger College of Engineering" [Fig 3]. You can also add links to your department/unit website as well as the college website.
Social Media - Add links to your department/unit social media channels
Footer - Select the "Insert Example" example button. Edit the footer content appropriately while following the pattern of the example [Fig 4].

In the Access tab, grant permissions to any group, unit/college, or department that may need access to the skin. This is only access to use the skin, not to edit in any way.
If another person or group will need to edit the skin, add them as administrators in the Privileges tab. This gives permissions to both use and edit the skin.

Please add privileges for the Marketing and Communications team by selecting engradm-office-communications from the group dropdown. This will allow us to help with any troubleshooting.
Fig 1
Fig 2
Fig 3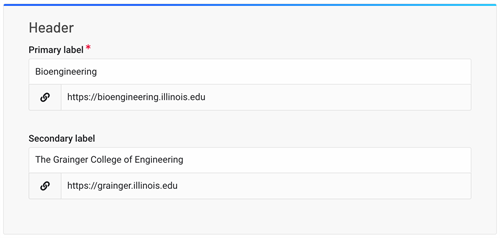 Fig 4
Application Skin Video Tutorial